When the Result Means Everything Award-Winning Attorneys
Making a Difference
Texas Trial Lawyers
A Law Firm With a National Reputation
Many lawyers today rarely see the inside of a courtroom, are uncomfortable cross-examining hostile witnesses, or are simply inexperienced presenting the truth to a skeptical judge, jury, or arbitrator. Lyons & Simmons, LLP has a proven track record in litigation when the result means everything.
Our trial lawyers have a broad and diverse background of real world experience in the courtroom across an expansive range of complex personal injury matters and high-exposure business disputes.
We routinely handle:
We are an award-winning firm of Plaintiff's trial attorneys who have earned the reputation of providing innovative and tenacious representation to every client regardless of your economic status or personal circumstances. We design a custom-tailored strategy to get the best possible result on every case we handle. Our philosophy is client-focused and result-oriented.
We are the lawyers who clients turn to when the result matters most. That's a responsibility that each lawyer at the firm understands and embraces enthusiastically.
Customized Legal Strategies

No two cases are exactly alike. We provide each of our clients with customized legal strategies and litigation solutions tailored to their unique needs.

Aggressive Representation

Our highly skilled trial lawyers are fearless about going to battle for our clients. When the opposition pushes back, we push back harder. We are determined to end your case with the best possible result.

A National Reputation

Our firm has successfully tried life-altering wrongful death and personal injury cases throughout Texas and nationwide. We have earned a reputation for taking on—and winning—complex, high-exposure cases.

Client-Focused Attention

As a boutique law firm, you receive personalized attention from attorneys with the resources you would expect from a large law firm. Our mission is to provide representation on par with, if not better than, that of any corporation and give you the best chance to win in the civil justice system.
A Law Firm With
a National Reach
Our team has the honor and privilege of being a law firm that is known for their knowledge, experience, and legal skill throughout the United States. We take pride in being legal resource and work to provide our insights in any capacity we can.
Most recently, a podcast that our attorney, Michael Lyons, was featured on has become not only a hit T.V. series, but also a soon to be major motion picture. To read the full article, and to listen to the podcast, use the following link.
The "Dr. death" Podcast
The "Dr. Death" podcast, called by some in the media one of the "most horrifying" surgery stories ever told, was one of the most-listened to podcasts of 2018 and of all time. Our attorney, Michael Lyons, had the honor of weighing in.
WE NEVER REST ON OUR LAURELS
At Lyons & Simmons, LLP, you will find a team of results-driven professionals who will demonstrate a mastery of the law and facts for every client on every matter. Our approach to litigation includes treating our clients with the respect and dignity they deserve, customization of our representation to the needs and goals of our clients, and being responsive and attentive to those needs and goals.
We Are Uniquely Positioned to Help You Win
Trying a case in court, setting it up for success from the start, fighting for the ultimate verdict – these are practices many attorneys shy away from; but not at Lyons & Simmons, LLP. We are uniquely positioned in terms of what we do here: We are trial lawyers who step into a case and adapt ourselves to the unique needs of the situation at hand. We are ready to do exactly this for you. Contact us today to learn more.
Fight For Justice Leads To Record Verdict
For their successful pursuit of justice in the face of adversity, Lyons & Simmons attorneys Michael Lyons, Chris Simmons, Chris Carr, and Stephen Higdon have been awarded the Dallas Trial Lawyers Association's prestigious 2021 John Howie Award. The honor is based on the trial team's work representing an Alabama mother who lost three children in a tragic West Texas highway accident.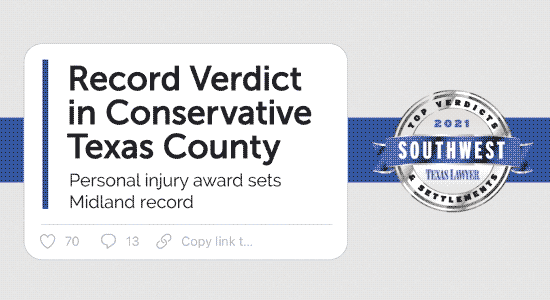 Fight For Justice Leads To Record Verdict
Captivate the Jury
Our Courtroom Strategies