Dallas Construction Accident Attorneys
Nationwide Construction Accident Lawyers You Can Trust – Call (844) 297-8898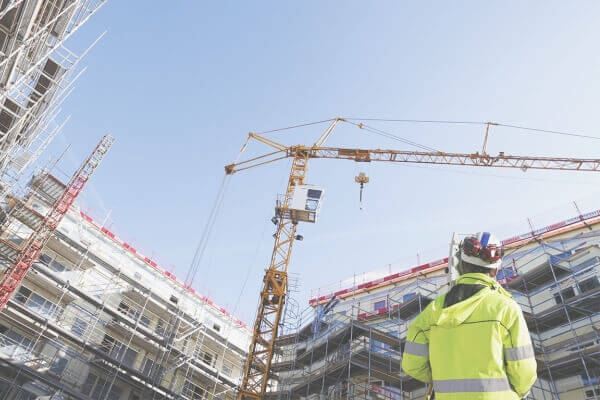 Construction projects, whether residential or commercial, can involve untold numbers of contractors working day in and day out for months—sometimes, even years. Invariably, workers are seriously injured or even killed on construction sites in Texas, which may lead to lawsuits for injury or death. According to the Occupational Safety and Health Administration (OSHA), construction fatalities accounted for one in five work-related deaths in 2019 alone.
Construction accidents come in many forms, such as when a construction worker falls from an unfinished balcony or when a tensioning cable laid in concrete snaps and hits unsuspecting workers below.
A keen understanding of the responsibilities of all involved parties and of all applicable laws and regulations is fundamental to the success of construction accident claims.
On This Page:
Call experienced construction accident trial lawyers at Lyons & Simmons, LLP at (844) 297-8898 to schedule an initial consultation.
Fighting for the Rights of Injured Construction Workers in Dallas, All of Texas & Nationwide
Our Dallas construction accident lawyers work side-by-side with industry experts to recreate the accident and identify any facts that a judge or jury must understand in order to assess liability and damages.
At Lyons & Simmons, LLP, we have the resources and tools necessary to see through these smoke and mirrors and in an attempt to obtain the best result for our clients in Texas construction accident cases. Call (844) 297-8898 or contact us online today.
Why Do I Need a Lawyer for My Case?
As construction accident lawyers in Dallas, our job is to watch out for your long-term interests. You're dealing with an injury that could affect your ability to make a living for the rest of your life—your compensation should reflect that. Unfortunately, you're facing an insurance company whose job is to settle your case for as little money as possible.
If they've given you an offer that seems generous, consider that they may be offering a settlement knowing that a jury trial might yield a far higher award. Having a lawyer on your side pressures your employer to offer you a far more honest sum or face costly litigation. In other words, having a lawyer puts power squarely in your hands.
What Parties Can Be Held Liable For Injuries Suffered In A Construction Accident?
In a construction accident, multiple parties may potentially be held liable for the injuries suffered. Some of the parties that could be found liable include:
Employers: The construction company or contractor in charge of the project may be held responsible for ensuring a safe working environment, providing proper training, and complying with safety regulations.
Property Owners: If the accident occurred on property owned by someone other than the employer, such as the project owner or a third party, they may be held accountable for maintaining a safe premises and addressing any hazards.
Subcontractors: If a subcontractor or their employees contributed to the accident through negligence or unsafe practices, they may share liability for the injuries sustained.
Equipment Manufacturers: If a defective or malfunctioning equipment or machinery caused the accident, the manufacturer or supplier of that equipment could be held responsible.
Architects and Engineers: If the accident resulted from a design flaw or engineering error, the professionals responsible for the project's design may be liable for the injuries.
Determining liability in a construction accident can be complex and requires a thorough investigation. This is why you should always consult with an experienced construction accident attorney who can evaluate your case and help identify the parties responsible for your injuries.
Do not accept less than what you and your family deserve. Call our Dallas-based construction accident lawyers at (844) 297-8898 now. Our attorneys offer free consultations, and we take no fee unless we win your case.
Types of Accidents on Construction Sites in Texas & Throughout the U.S.
With hands-on occupations like construction work, there are several ways a job can go wrong and cause a serious injury. Even as a bystander, construction sites can be extremely dangerous. Construction accidents happen for a number of reasons, including malfunctioning equipment, inadequate worker training, poor management, and carelessness. Whatever the reason, construction accidents do happen, and they can be extremely damaging, or even life-threatening.
Common Construction Accidents Include:
Falls: Construction workers often work from extreme heights on scaffolding, planks, platforms, or high buildings. When working from such heights, it a worker is inadequately secured, he or she could fall and be seriously injured.
Slip & Fall Accidents - A fall from any height can be very damaging, especially at a construction site where hazardous tools and materials litter the area. A misplaced tool, unsecured cord, or loose board could cause a serious fall and may result in severe injuries.
Falls from Scaffolding - Workers usually spend a lot of time on ladders, rooftops, or scaffolding. Falls from such heights can lead to catastrophic injuries.
Falling Debris There is a reason construction sites require protective headgear. Falling debris is quite common. When workers are stationed high above the ground, debris, tools, and materials can easily slip and strike someone below. Likewise, debris from machinery and construction vehicles can become loose and may strike bystanders and workers below.
Heavy Machinery Accidents - If tractors, cranes, lifts, drills, or other machinery and tools malfunction, it could be extremely dangerous and damaging. Sometimes this could be an operator error, or it might indicate a manufacturing or design problem.
Work Site Vehicle Accidents - Accidents that involve the transport of construction materials are sadly very common.
Backover & Crushing Accidents - Following safety precautions for construction projects is essential due to the high risk of crushing injuries caused by heavy machinery.
Becoming Stuck or Trapped: Construction work often includes the use of heavy machinery, tools, and materials. Sometimes workers can become stuck under heavy objects or wedged between large or immovable parts. Sometimes these types of injuries result in broken bones or even amputation.
Overexertion: Working for long hours in sometimes brutal conditions can easily take a toll on the body. Construction workers can sometimes become overexerted if they are not allowed adequate breaks, are not supplied with water, or are forced to work in harsh heat or cold.
Electrocutions: When construction crews work on a building or home, they are usually around open wires and other dangerous materials. If electricians are not careful, or if safety measures are not properly followed, construction workers and bystanders could be electrocuted.
Respiratory / Occupational Disease Injuries from Chemicals: Construction sites often see numerous chemicals and materials, some of which could be toxic or otherwise dangerous. If you are exposed to dangerous chemicals on a construction site, you could suffer from chemical exposure, or the chemicals could cause a burn, or might react with surrounding materials to cause a fire or other damaging problem.
At Lyons & Simmons, we understand that all construction worker injury cases are unique. Cases may involve failures to adhere to certain safety regulations—such as those required by the Occupational Safety and Health Administration (OSHA)—or from the improper supervision of construction workers who are tasked with important and dangerous job duties.
Recommended Reading