Dallas Brain Injury Attorneys
Nationwide Lawyers for Traumatic Brain Injuries
A traumatic brain injury (TBI) can develop due to a bump, blow, or jolt to the head. It may also occur following a penetrating head injury, disrupting functions of the brain. The severity of a TBI can range from mild to severe.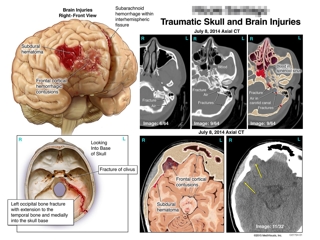 Each year, TBIs are responsible for a substantial number of deaths or permanent disability. According to a report by the Center for Disease Control, estimates indicate that between 3.2 million and 5.3 million persons in the U.S. are living with a TBI-related disability.
Do you have a TBI? Call the Dallas brain injury lawyers at Lyons & Simmons: (844) 297-8898. We serve clients throughout Texas and across the United States.
Lyons & Simmons handles complex brain injury cases nationwide involving 18 wheelers, automobile accidents, NFL and NHL players, and bicycle and skateboard accidents, among others.
Handling cases involving TBIs requires an understanding of the evolving medical science as well as sophisticated neuroimaging. Recent technological and neuroscience developments have made it possible to be able to quantify brain injuries to such a degree that juries no longer have to infer from neuropsychological testing whether or not a person has a significant brain injury. Diffusion Tensor Imaging (DTI) and fractional anisotropy (FA) have given neuroradiologists and neurologists the ability to identify and quantify abnormal patterns within the brain that when paired with a history of trauma, can help to establish the existence of a brain injury.
Lyons & Simmons, LLP has extensive experience with brain injury cases and is committed to retaining respected experts in the fields of Neurosurgery, Neurology, Neuroradiology, Neuropsychiatry, Vocational Rehabilitation, Life Care Planning, and Physical Medicine and Rehabilitation for complex brain injury cases. Let us handle your brain injury case.
Need to discuss your case with a Dallas brain injury attorney? Call (844) 297-8898. We have handled ample amounts of personal injury cases.
Recommended Reading:
Lifetime Costs of a Brain Injury
The brain is incredibly vital part of the body, but extremely delicate. Even a slight amount of damage can lead to long recovery times and the possibility of permanent physical, emotional, and financial consequences.
Financial Costs
The financial costs of a brain injury are perhaps the easiest to comprehend, but also the hardest to calculate. Brain injuries are unique in that it's almost impossible to diagnose their true nature. How severe is it? What impact will it have in the short term, as well as the long term? Is a full recovery possible? Will there be lasting side effects? Each of these questions could have an impact on the financial damages sustained through this injury.
Medical Care
Brain scans, examinations, and medical procedures needed to properly treat a brain injury add up quickly, and can be financially devastating when care is measured in months or years. By some measures, the lifetime costs of treatment for a TBI are estimated to vary anywhere between $85,000 for a mild issue and $3 million for a more serious condition.
Lost Earnings
Compounding the financial impact is the potential loss of earnings of both the patient and the loved ones who may have to put their lives on hold to help provide medical care.
The average unemployment rate for adults two years after a TBI diagnosis is 60 percent. People who suffer from brain injuries may lose the ability to work in the same capacity as they did previously, meaning they may never be able to return to work again.
Non-Financial Costs
A TBI also has other costs that are not necessarily financial in nature. Pain and suffering and emotional trauma are two of the largest non-financial costs of TBI.
TBIs also can lead to other side effects, such as mood swings or changes in personality, which can have a dramatic and devastating impact on your personal and professional relationships.
When the Result Means Everything, Trust Our Team
If you or a loved one suffered a brain injury, our team of award-winning attorneys are ready to fight on your behalf.