Brain Injury Attorneys in Dallas, TX
Representing Victims of Traumatic Brain Injuries in Texas & Nationwide
Lyons & Simmons handles complex brain injury cases nationwide, including, but not limited to, cases involving 18 wheelers, automobile accidents, motorcycle accidents, NFL and NHL players, helmet defects and bicycle accidents, among others.
A traumatic brain injury (TBI) can develop due to a bump, blow, or jolt to the head. It may also occur following a penetrating head injury, disrupting functions of the brain. The severity of a TBI can range from mild to severe.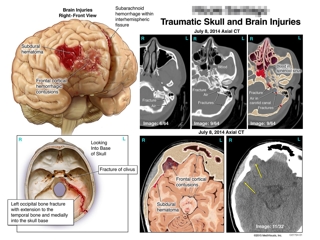 Each year, TBIs are responsible for a substantial number of deaths and cases of permanent disability. According to a report by the Center for Disease Control, estimates indicate that between 3.2 million and 5.3 million persons in the U.S. are living with a TBI disability. Additionally, adolescents and adults who are affected by moderate/severe TBI and discharged from rehabilitation facilities were more than twice as likely to die 3.5 years after their injury. Published, peer-reviewed literature indicates that 2 in 10 adolescents and adults who are treated for TBI and receive rehabilitation therapy will die within 5 years post-injury and nearly 4 in 10 will have declined in function from the level of recovery attained 1 to 2 years after their injury.
Do you have a TBI? Call the brain injury lawyers at Lyons & Simmons: (844) 297-8898. We serve clients throughout Texas.