Dallas Fire & Explosion Injury Lawyer
Nationwide Attorneys Armed With a Keen Understanding of Fire Science
Fires and explosions can lead to devastating losses to both life and property. Our attorneys have extensive experience handling cases involving life-changing fires and explosions across the United States involving drilling rig accidents, chemical spills, house fires, gas explosions, lithium ion batteries and allegations of equipment or product failures.
Identifying the cause and potential liability associated with a fire or explosion can be extremely specific and requires a thorough understanding of complicated sciences. Sometimes, the apparent cause may seem obvious at the outset, but a targeted investigation may yield information contrary to what is initially believed to be the case.
Contact Lyons & Simmons, LLP today to speak with a fire and explosion accident lawyer: (844) 297-8898.
Burn Cell Studies
Part of our strategy at Lyons & Simmons, LLP involves recreating accident scenes in order to show a judge or jury how the fire/explosion happened and how it affected our client. Here you'll see photos of "burn cell" studies, where we've recreated rooms to help model a fire event. in order to provide a visual indicator of the cause and spread of the fire.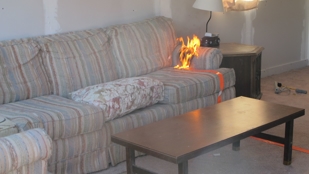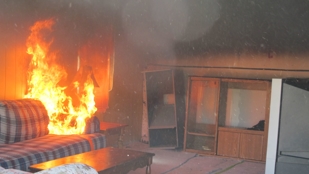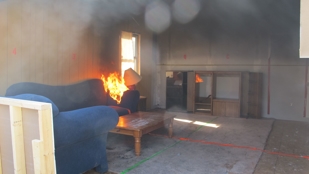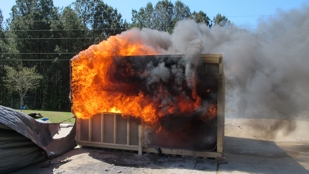 To best understand how a fire started or what caused an explosion, we know what it takes to acquire and present evidence to a judge or jury—even if it means we must recreate the entire situation, such as when we obtained an identical trailer home to the one involved in a multiple-fatality fire and burned it to the ground so the jury could see with their own eyes how the evidence supported our client's position. By demonstrating how the fire propagated, we were able to establish that our theories about how the fire started were correct. Let us put our innovative ideas to work for you in your fire or explosion case.
Handling All Types of Fire & Explosion Cases
At Lyons & Simmons, LLP, our personal injury lawyers work with first responders, law enforcement, and industry leaders and experts to assess and evaluate each fire or explosion so our clients have a clear understanding of what happened, why, and what it means for the purposes of liability and damages. We have access to some of the nation's most respected origin and cause experts, electrical engineers, and metallurgical engineers who testify in cases that involve serious fire and explosion issues. By utilizing the right team of professionals, we have a track record of aggressive and intelligent case development in these cases.
Don't wait to get experienced representation behind your case. Contact Lyons & Simmons, LLP at (844) 297-8898. We have handled a countless number of personal injury cases.