Firm News
A Law Firm Making a Difference
Our team is honored and proud to be both nationally and locally recognized by our peers, clients, and law organizations throughout the nation. Stay in the know with all of the Lyons & Simmons news updates.
Fighting For Justice, Fighting For Change
Dallas trial attorneys Michael Lyons and Christopher Simmons find motivation in the pursuit of justice.
Originally published in the 2021 Best Lawyers Magazine.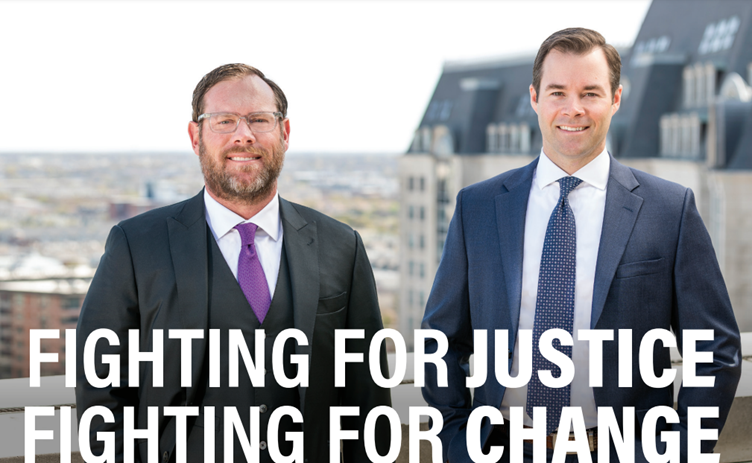 Fighting for the rights of their clients is truly the hallmark of the Dallas trial firm Lyons & Simmons. With a focus on large personal injury, wrongful death, and business dispute cases, firm founders Michael Lyons and Christopher Simmons are devoted to representing those who have the deck stacked against them.
"It is a serious responsibility when you represent the victims of catastrophic personal injury and wrongful death. These individuals often face life's biggest adversity, their lives have been torn apart, and the legal deck is stacked against them," says Lyons.
"When working on a case, you get so invested in the details, what happened, how it happened, how it could have been avoided. I literally lose sleep at night thinking about how this person and those who love them have been wronged, and not only what I can do to help them move on with their lives but also how I can help it from happening to someone else in the future."
Lyons & Simmons' ownership over clients' legal outcomes has earned the firm a national reputation for getting remarkable results in big, high-exposure personal injury and wrongful death cases. "We usually come up against corporations or institutions that are represented by a team of big-firm lawyers whose primary legal strategy if they don't have the facts on their side is simply to outspend and outlast you," says Simmons. "That is not going to happen with us."
With COVID-related closures impacting access to the courthouse for most of the past year, having attorneys with that mentality has been invaluable for the clients of Lyons & Simmons. The firm is dedicated to ensuring justice delayed does not become justice denied for their clients. Indeed, the attorneys have been focused on keeping litigation moving forward. It is that drive to protect the interests of clients whose lives have been irreparably altered due to the negligence of others that clients have come to expect and opponents respect about Lyons & Simmons, leading to the firm's selection in 2020 as the top Dallasbased personal injury law firm by readers of Texas Lawyer magazine.
In the early morning hours of Jan. 22, 2018, an explosion rocked a gas well operation in Pittsburg County, Oklahoma. The worst oilfield incident in Oklahoma history and the deadliest in the U.S. since the 2010 Macondo Deepwater Horizon blowout, the resulting fire claimed the lives of five workers who were burned alive trying to escape the intense blaze. Representing the survivors of one of those killed, Lyons and Simmons were able to settle the family's claims just short of trial. The combined settlement is believed to be one of the largest in the history of Oklahoma for one adult wrongful death.
But financial restitution is simply not enough in cases such as this, says Simmons. "Early on in our accident-site investigation we began to see that there were unacceptable corporate practices that were not just being allowed, but in certain situations also encouraged," he says. "Bringing these practices to light will help bring further attention to dangerous industry practices involving well control management and monitoring and change the culture that allowed this accident to happen."
That drive to affect change recently has been applied to college athletics, with the firm representing big-time Power 5 conference NCAA coaches who have been dismissed by schools which have attempted to leverage alleged NCAA violations against their own programs for financial convenience.
In the case of David Beaty, the University of Kansas tried to use allegations of lowlevel NCAA infractions as cause to avoid his $3 million buyout after his dismissal near the end of the 2018 football season. While conducting depositions and through discovery, the Lyons & Simmons team began to uncover details of a deeply troubled athletic department extending far beyond the simple allegations levied against Beaty, implicating department staff, other sports, and outside sports industry entities. Ultimately Kansas Athletics chose to settle the dispute rather than risk a protracted court fight that would have resulted in a trove of embarrassing information being brought to light.
In the process, Lyons & Simmons created a roadmap on how to respond to a school's willingness to weaponize NCAA violations to avoid financial obligations. The firm now represents more than a half-dozen college coaches in similar high exposure contractual battles, including a dispute with the University of Tennessee concerning its former head football coach. Lyons & Simmons' involvement did not go unnoticed, with at least one Tennessee reporter calling Lyons "a specialist" who is emerging as "a crusader for coaches' buyouts."
While that type of work has thrust the firm into the spotlight, media exposure has never been a motivator tor Lyons and Simmons. "It doesn't matter if it is someone killed in a high-profile workplace accident or irreparably injured in incident that barely made the evening news, everyone deserves justice," says Lyons.